Innovative and customer specific solutions
Together with our customers we develop specific software solutions in all common programming languages, thus fulfilling real needs and realizing strategic goals in the field of tourist guided tours and providing information on POIs. We also take over the entire project planning from the development of the specification sheet to the final use of the software. The constant support after the roll-out as well as software updates are part of our service and are a matter of course for us. Before we develop something, we clarify all expectations of our customers and their guests, understand their needs and design solutions.
Smartphone App
Address new audiences and make a guided tour of your facilities possible on your visitors' own familiar equipment. The provision of an app opens up completely new possibilities for visitor marketing for tourism providers. The smartphone app is the most modern, interesting and mobile version of a multimedia tour – whether in the city, in a museum or on hiking trails… The list could become incredibly long. Wherever information is provided to visitors, you should always consider new audiences and new technical applications.
A smartphone app offers great potential to generate additional sales and to market high-quality tours extensively.
Information about Smartphone App
technical specification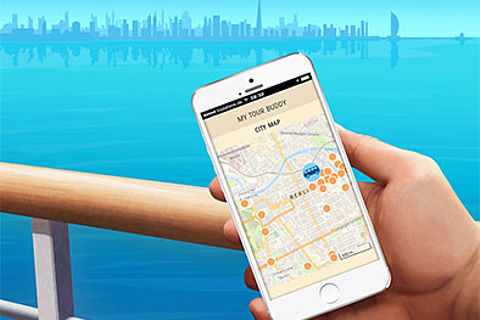 Available Apps
Discover for yourself the high quality of our guided tours and download one of the free apps to your smartphone.
Here you can find our apps in Google Play Store!
Click here for our apps in the iTunes Store! You can find more apps  here or with the link under the respective partner (Erlebniswelt Stadt) in our references.
App Platform
The app platform is the concept of a shared app for tourism service providers, so that visitors are provided with a single platform for all members of an organisation (e.g. DBU with its members). With the help of the App Platform and the app produced from it, your visitors can call up audio information as well as pictures, texts or videos about individual points of interest via GPS.
The architecture of the platform is designed in such a way that there is a separate database for each member of the network, into which tours and information can be entered via a simple content management system (CMS).
The design of the generated app is responsive and adapts automatically to every possible screen size and can therefore be displayed on your own website. In addition, the app is programmed on a hybrid basis and is therefore platform-independent. The output to the individual mobile phone systems such as iOS and Android is automated and thus saves significant costs and time.
Information about App Platform
technical specification
Phoneguide
No matter whether it's a classic mobile phone or a smartphone, we offer a solution for every end device: by call, download, mobile internet or app – and all this with your own familiar device. Let your visitors listen and be amazed at the same time: With our mobile phone guides, your guest can view the respective point of interest and listen to the explanations in a relaxed manner. Our mobile travel guides can be used around the clock for as long as you want – simply in between or as part of a continuous tour.
There is a choice for every preference:
• Classic city telephone guide, e.g. Augsburg
• Hiking and cycling tours, such as in the Duchy of Lauenburg or the Green Belt
• Museum tours, e.g. Ludwigsstadt Slate Museum
• exhibitions, e.g. on Queen Luise on the Pfaueninsel near Berlin
• Art projects, such as Memory Loops in Munich (also as app)
• RFID/QR code, e.g. touch points in Potsdam
• Guided tours for specific target groups: Audio guide for the blind in Potsdam or the Swabian audio guide in the Schillerstadt Marbach!
• And all this in many different languages!
With the Phoneguide the visitor can experience the sights of your city directly with his own mobile phone. Further information on the technical data can be downloaded here (pdf file, 600 KB).
Information about Phoneguide
technical specification